Indoor Play Spaces Draw Families to Shopping Centers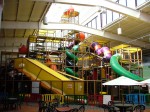 After freezing temperatures and heavy snowfall from October through March in many states this year, the conversations in preschool pick-up lines and pediatrician waiting rooms are all about indoor play spaces, including playgrounds in enclosed shopping centers. Parents and caregivers are eager to go anywhere to "get the energy out" of their young children, and retailers are taking note.
During the recession from 2009-2013, shopping center owners saw a decline in visitors to enclosed malls, and many began revising the tenant mix to provide more "experiences" to draw shoppers into the retail center. Some shopping centers moved to providing gourmet, high-end "food halls" such as Mario Batali's Eataly in New York and Chicago and Hudson Eats at Brookfield Place in New York. Others began incorporating spa services including botox centers such as Venus Mini Med Spa and massage destinations like Massage Envy and Art of Reflexology. Other enclosed malls sought to attract shoppers with young children by developing indoor play spaces, and that investment seems to be paying off. Parenting magazines and Mommy blogs are paying attention, and in most large cities, caregivers of young children can find easily searchable lists of indoor play spaces including those in local malls.
In the past five years, Playtime, Inc., the leading designer of custom-made soft indoor play areas has provided indoor play areas for General Growth Properties, Simon Property Group, Taubman, CBL & Associates, Jones Lang LaSalle, and other retailers and developers. While Playtime, Inc. focuses on sculpted foam play areas with an antibacterial coating, other providers including International Play Company and Soft Play provide components that can be assembled into customized play spaces. The play areas are often sponsored by local hospitals or sports teams, and the shopping centers provide the floor space and maintenance. Taking any theme, such as geographic features or the sponsor's business, the play areas also provide parent-friendly amenities like phone charging stations, picnic tables, and family bathrooms. Most play areas are located away from mall exits, have one entry point, and are self-supervised with signs reminding parents to watch their children. Some shopping centers have even clustered children's retailers near the play areas, and have reported increased sales in those stores.
When shopping centers provide play spaces, they build themselves into the weekly schedules of parents with young children. Some parents even schedule play dates at the shopping center playgrounds. Having a regular visit to the mall changes a parent's perspective on shopping and reduces the appeal of online shopping. Instead of a trip to the mall being a nightmare event that requires bribery and stocking the diaper bag with penny candy, it becomes a trip to the playground with a short stop for new shoes.
Enterprising shopping center owners have long provided attractions to customers and their children including fountains, visits with Santa, and indoor rides such as trains or carousels. However, the modern parent wants a place where children can actively engage with the play equipment and run around. Increasingly, shopping centers are adding kid-friendly attractions, and families are using the playgrounds protected from the heat of summer and the cold of winter. The move toward mall playgrounds is not only happening in America, but is an international trend. Mommy blogs in Singapore and China are also keeping track of mall playgrounds as shoppers are eager to have smog-free, climate-controlled play experiences for their children.